Free UK delivery on orders £45+
50 Gifts to Sew for Christmas
When you have the gift of being a sewer, the festive season is the perfect time to share your gift with loved ones - by indulging them in a handmade gift! Male or female, old or young, check out some of these ideas of what to get stitching for them...
50 Gifts to Sew for Christmas
A great gift for people of all ages, this quick and easy infinity scarf is achievable for all skill levels and makes a practical gift that can be personalised with their favourite colours and prints. 
Treat a little one to a unique cuddly toy like this pretty Flora the Elephant pattern from Bustle and Sew - use floral fabric for an extra special finish.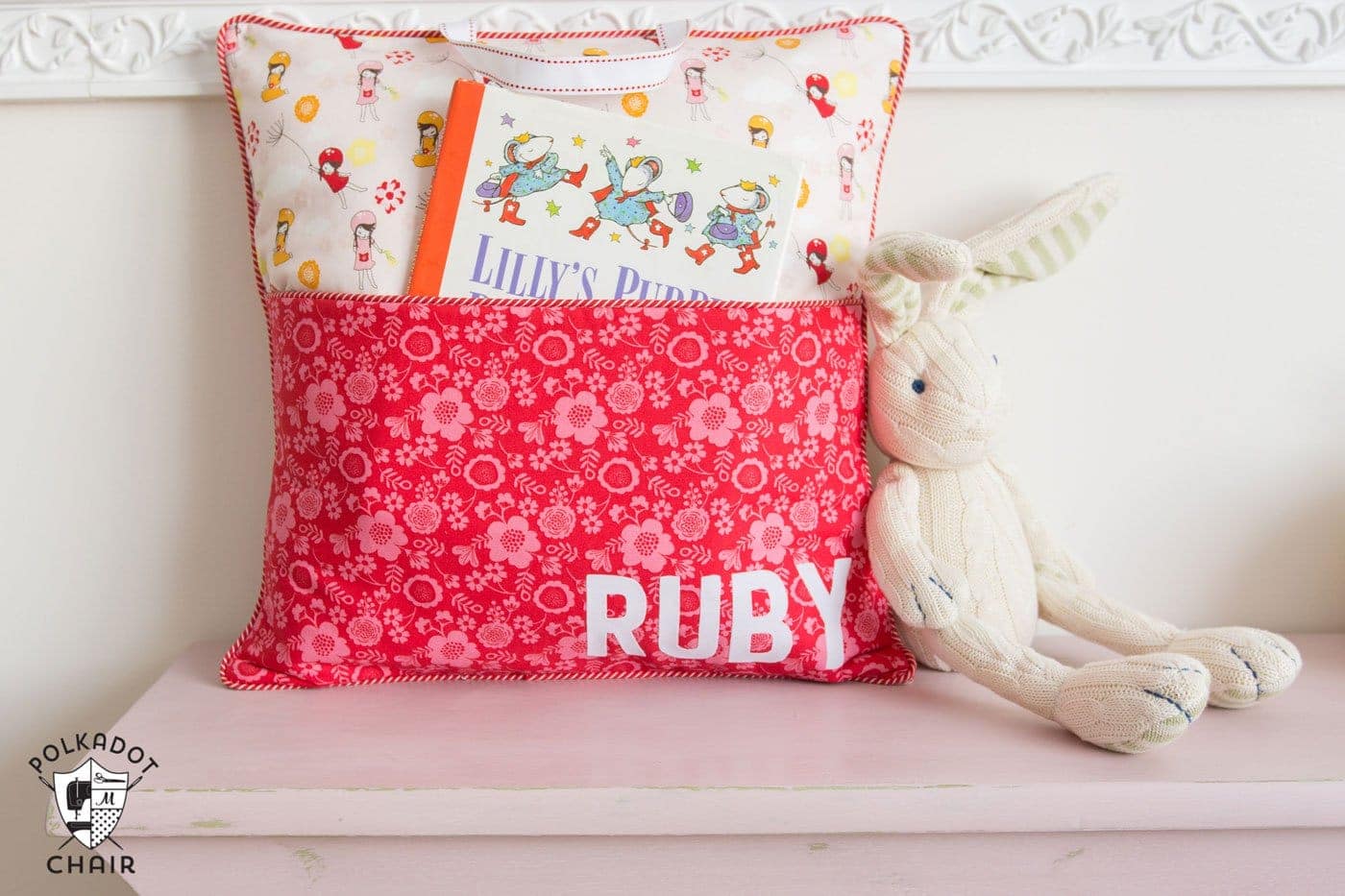 Practical gifts don't always have to be boring - a colourful personalised reading cushion makes a great gift for an avid little reader! We love this tutorial by Polkadot Chair.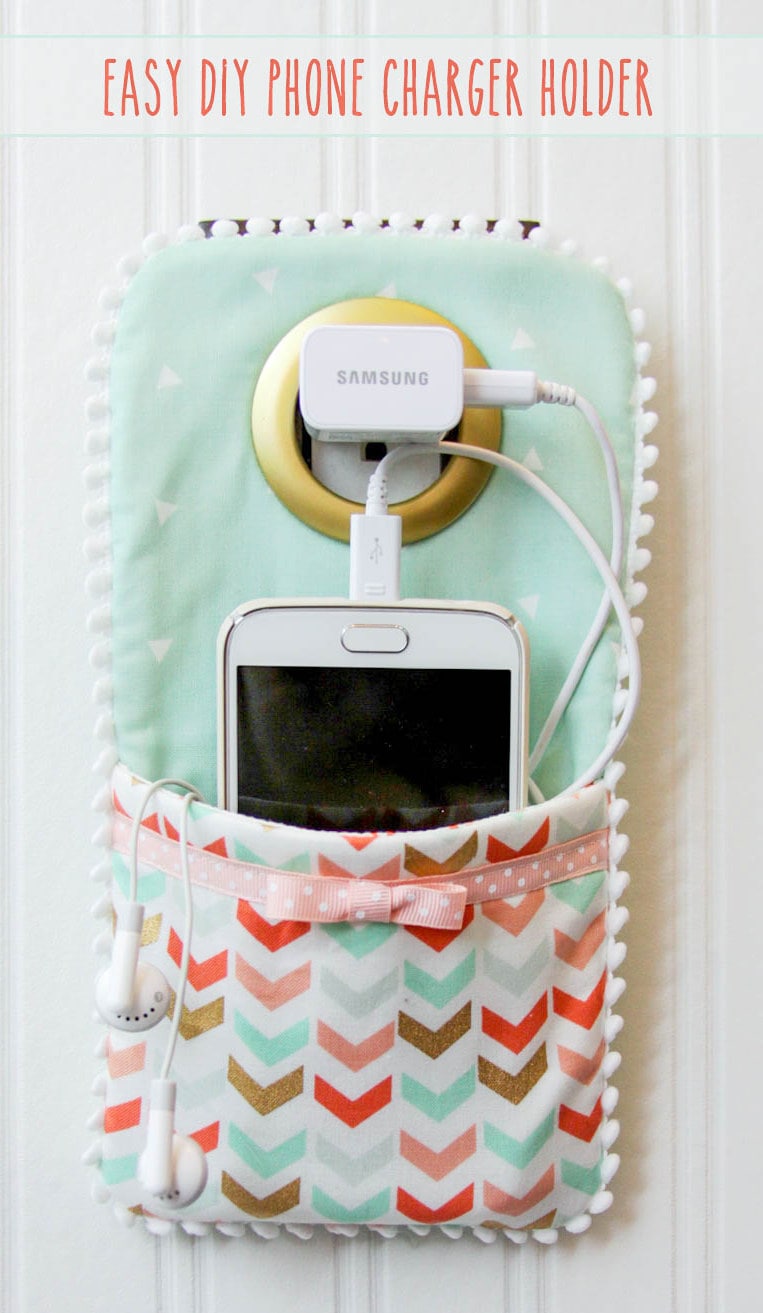 For the gadget-obsessed, try out one of these handy charging pod projects from Lil Luna that can keep everything together in one place while they charge their phone. 
If you'd like to make something for the furry friend in your life, have a crack at this simple dog bandana project - make it in festive fabric for something fun, or pick an exciting or colourful print. Extra points for embroidering their name on it!
We ADORE these bright little pen holders by Sew Can She - they make a great add-on gift alongside a beautiful journal, and save you always searching for a pen when you want to write!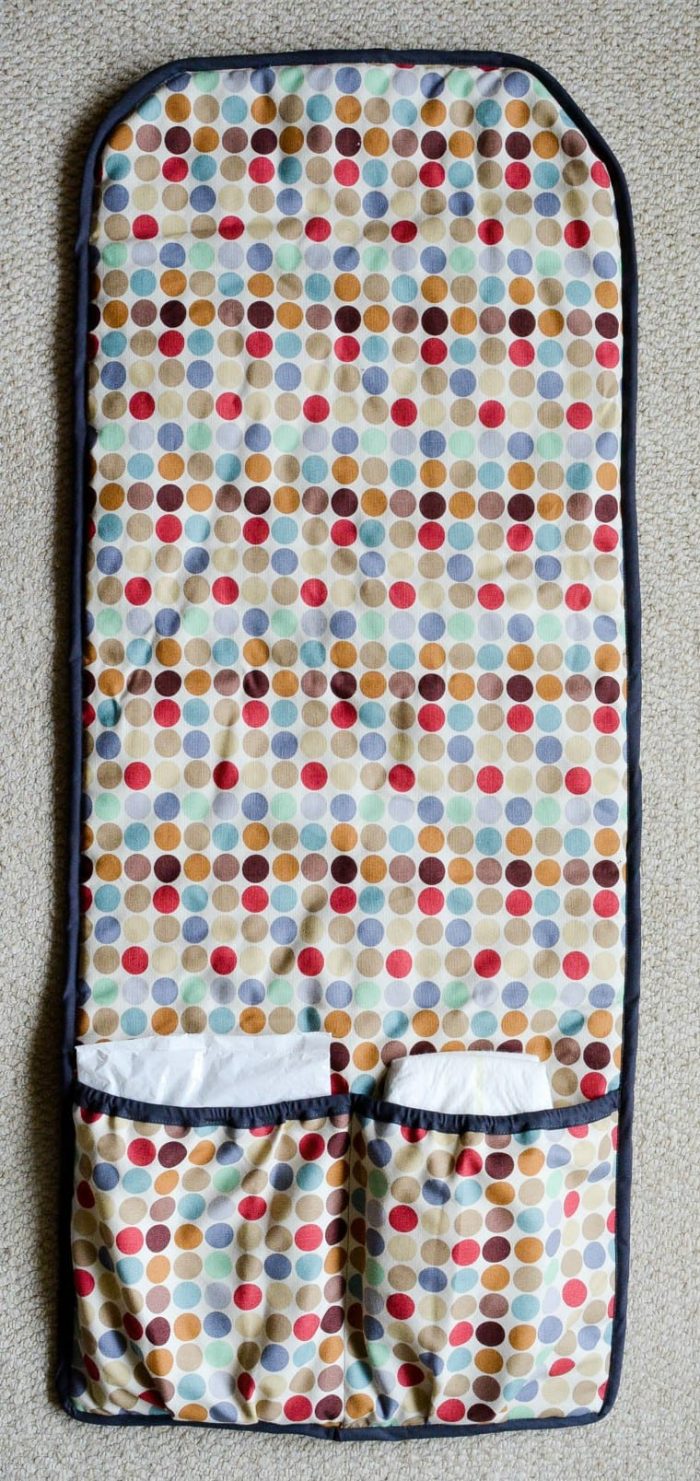 Treat a hard-working mum or couple to a beautiful new baby accessory to make their lives easy, like this wipe clean baby mat from Vicky Myers Creations.
Know someone that's always burning their hands on their lunch, straight out the microwave? Knock together a couple of these simple washable soup bowl cozies by Happy Hour Stitches and they'll thank you forever!
Alternatively, if you know someone who loves to cook or bake, why not make them a pretty oven glove like this one? Cut up a panel for the centre and use insulated wadding to protect from heat.
Little boys will love these fun dinosaur play tails, in bright colours by Andrea's Notebook!
If you know any other sewing enthusiasts, whip them up a set of cute pattern weights like these ones from Tea and a Sewing Machine - bonus points for using sewing themed fabric!
For those who love to wine and dine, make a matching set of gorgeous fabric placemats by utilising a fabric panel or some scenic fabric. Just quilt round the design to pick out some details for a simple but thoughtful gift.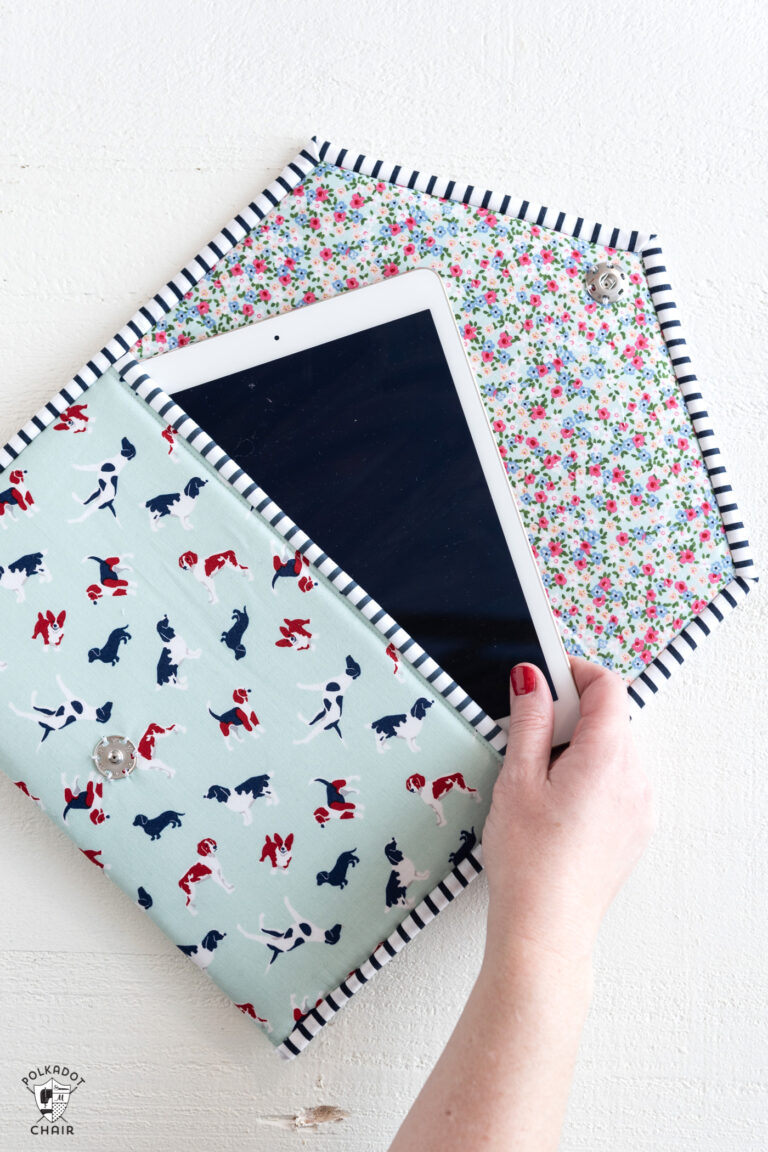 Make a cool tablet case like this one from Polka Dot Chair for anyone in the family or a friend, with this simple pattern. Choose cool fabrics and pretty binding for extra wow-factor.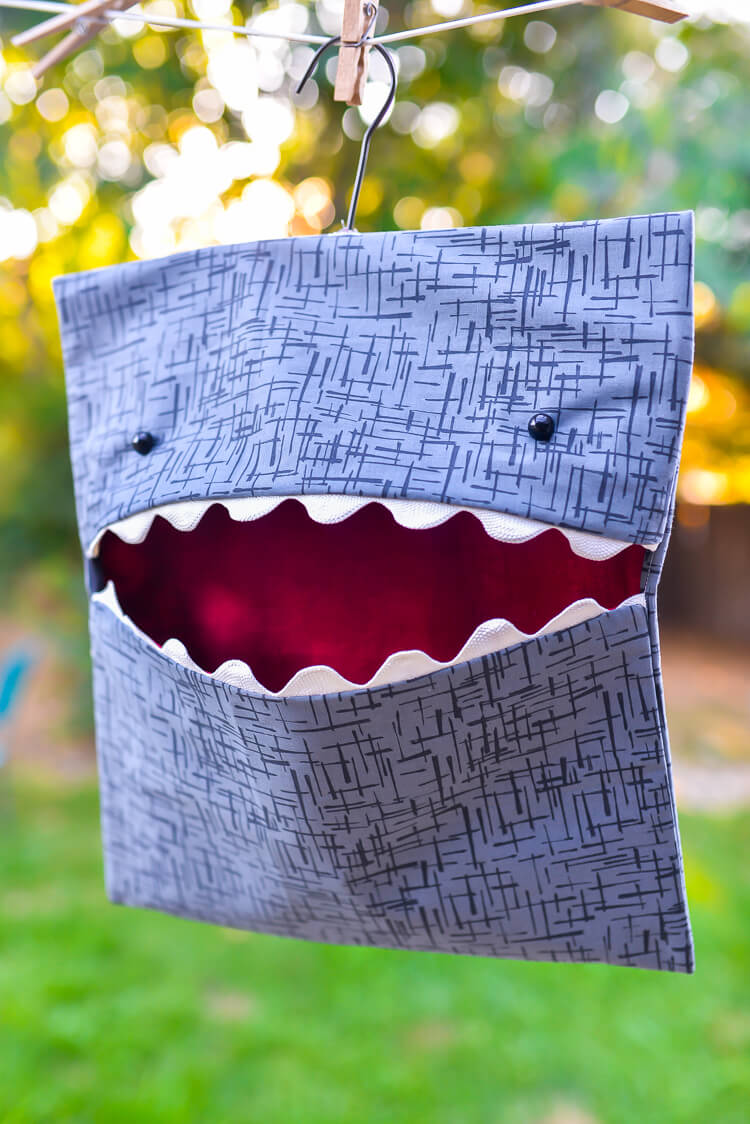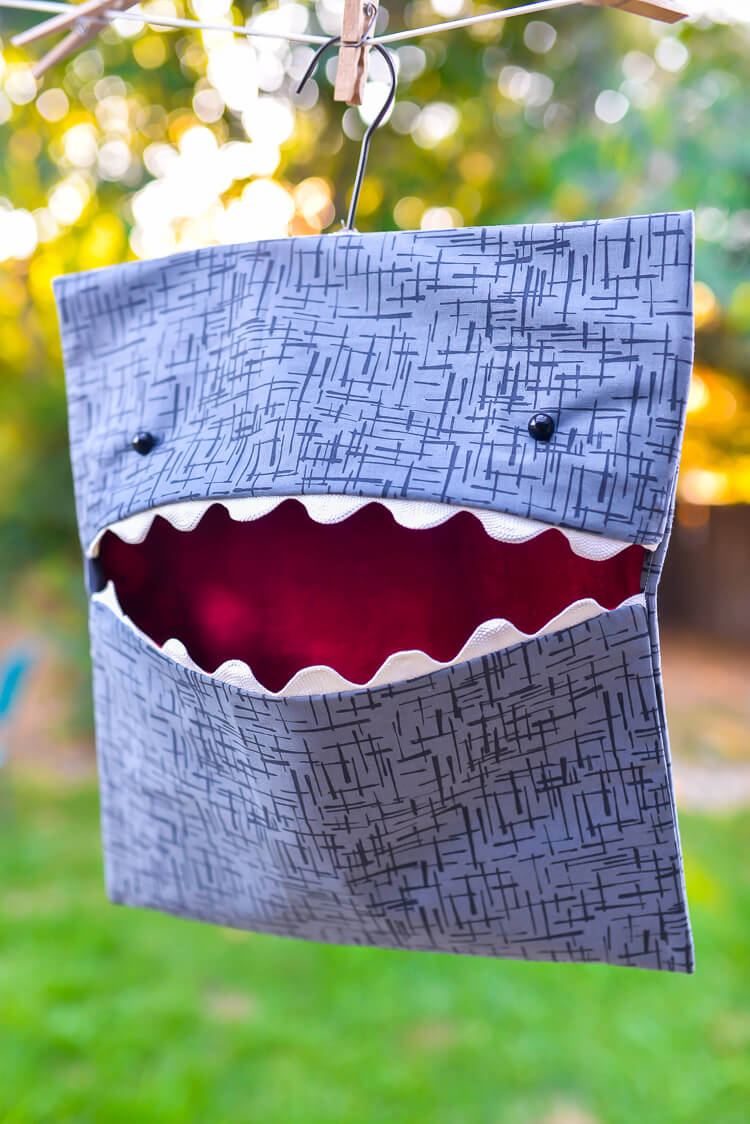 Add a bit of fun to laundry day for mum, and have a go at this cute little shark peg bag by Hey Let's Make Stuff.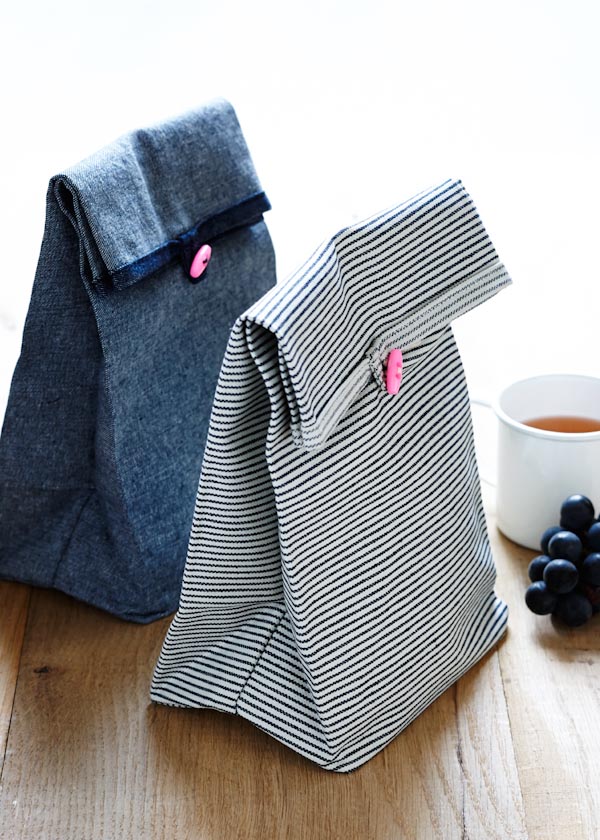 Even the most fussy people have to eat lunch, so if you're stuck for what to make somebody who has everything (or likes very little), run up one of these cute lunch bags by Purl Soho - why not add their name in embroidery?
Encourage little ones in their love of reading by making a book cushion! It has a pocket on the front to tuck their latest book into - why not give it with a book as a lovely co-ordinating gift?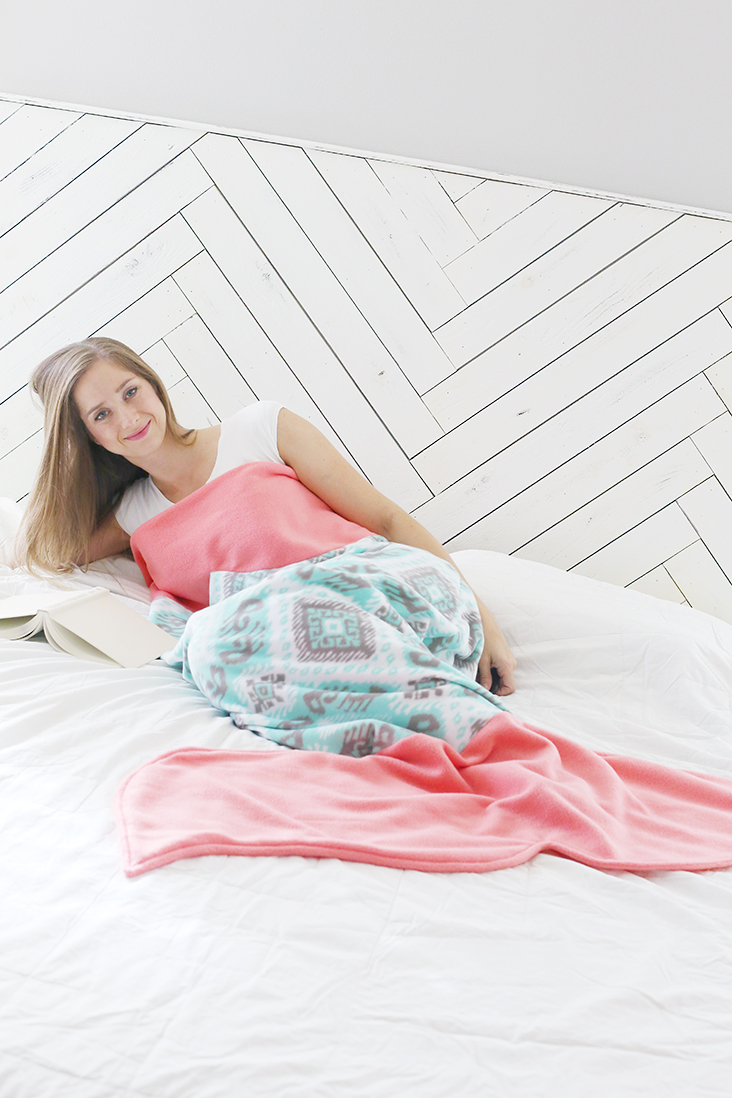 Get snuggly with one of these trendy mermaid tail blankets, for adults! Made from supersoft plush fabric, Sew Much Ado has got your covered with her comprehensive tutorial!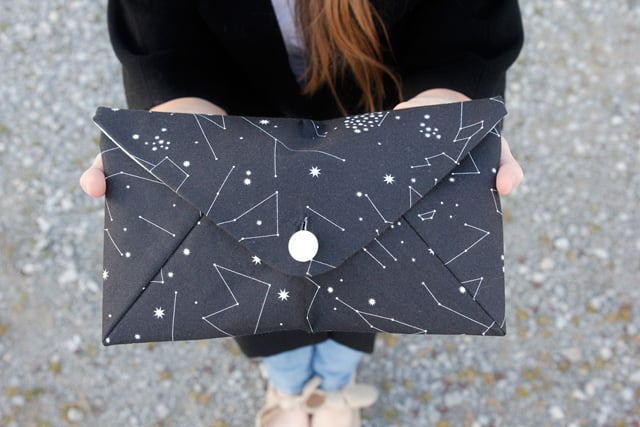 You can still sew for fashion-conscious friends; check out these stunning envelope style clutch bags by See Kate Sew that are perfect for an extra special accessory.
Treat mum or grandma to some cosy slippers for their tired feet with this simple tutorial by Todo Manualidades (you can use Google translate).
Go classic with a new pair of oven gloves! The key to making a good pair is picking a good fabric that your recipient will like either due to novelty factor or colours/patterns that match their kitchen - then simply follow this tutorial by Make It & Love It.
For the jetsetter in your life, nothing but a passport cover will do! Use bright colours or bold patterns to make sure it's easy to find in amidst all their luggage. We love this Liberty tutorial from Mollie Makes!
If you don't have time to sew or aren't very confident with a machine, try this no-sew Liberty fabric covered notebook for a quick and easy gift.
Here's one for all those handsome little boys you know - a cute novelty bow tie bib by Make It & Love It!
We love how versatile this honeycomb basket by Love From Beth is - whether they use it like this for crafty bits, or you make it up in a more masculine fabric for him to store his DIY bits and pieces in.
Make sure nobody misses out, a sew up a bunch of these adorable fish drawstring bags for all the kids - personalise with their name on the back. Tutorial by Eclemo for Women's Weekly.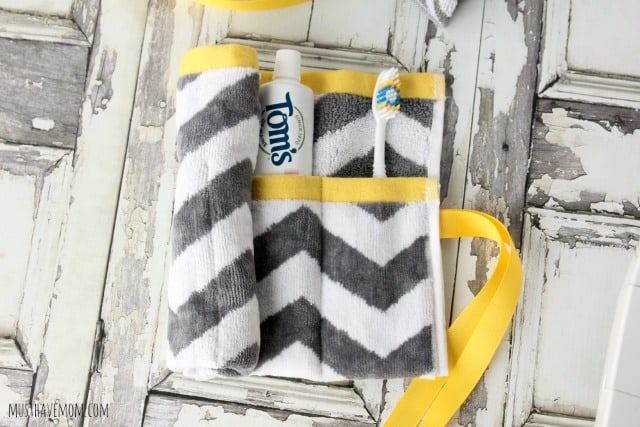 For someone that's always on the go, a thoughtful travel toothbrush holder is a lovely gift - pick some fun towelling and go crazy! Tutorial by Must Have Mom.
How cute is this hair clip holder from Emma Bee? Great for a little girl's bedroom!
If there's a new arrival expected soon, whip up a few cute little things to give to the expectant parent - including these beautiful (yet easy) baby hats by Coral + Co, which goes from Preemies all the way up to 12 months. 
Ruffles are big this season in clothing, so why not add them to accessories too? Great for fashion-conscious recipients, we love this tutorial from See Kate Sew!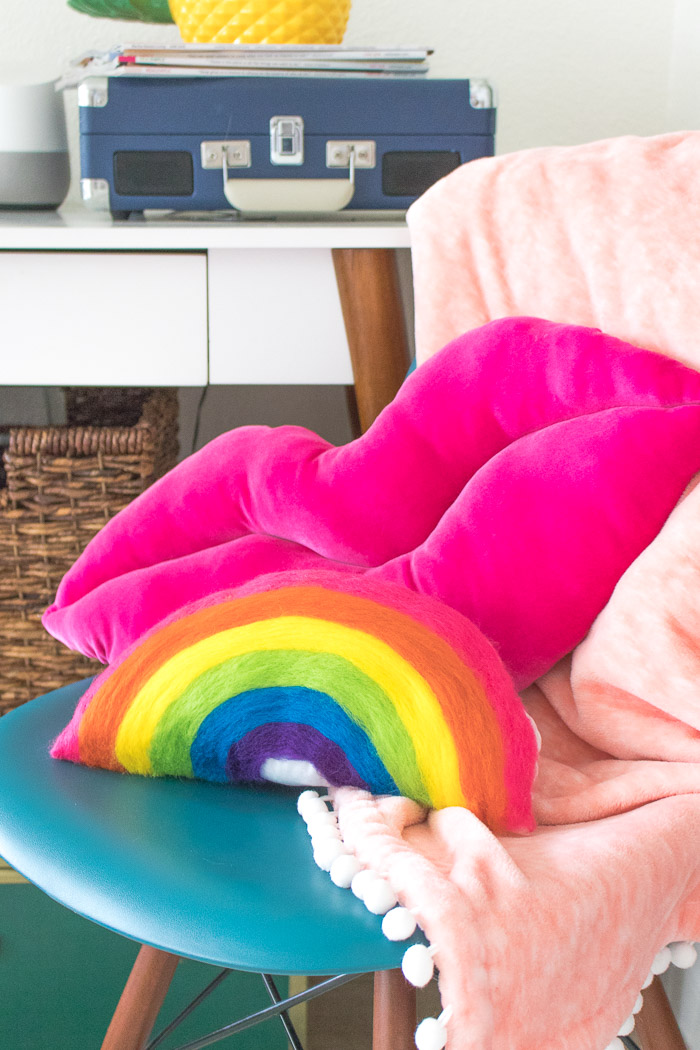 Get mixed media with this sewing AND needle felting project that's as uplifting as it is colourful! Try out this needle felted rainbow cushion by Club Crafted.
Upgrade the basic scrunchie with this gorgeous bow scrunchie project from Crafty Staci.
Don't have time for a full sewing project? DIY your own cute cactus oven glove by embellishing a ready-made oven glove for a fun gift - tutorial by The Proper Blog.
Make up a bunch of these simple but stylish wrist key chains for easy presents to stash away in case you get caught in need of one! They're a great way to use up ribbon and fabric scraps too. Tutorial by Making Things is Awesome.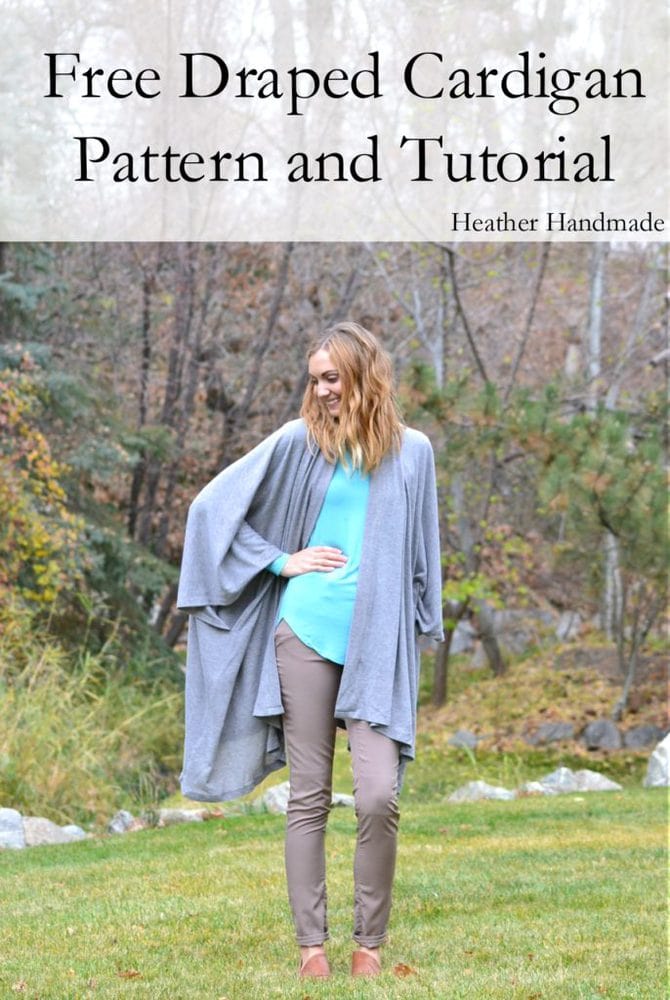 For those who love to be wrapped up, make one of these fits-all draped cardigans with this handy tutorial from Heather Handmade.
Keep them cosy with a gorgeous triangle quilt project by Making Things is Awesome - it's achievable even for beginners. 
Make something to keep those expensive glasses safe as well as stylish with this gorgeous glasses case project from Riva La Diva.
Put a smile on the kids faces with one of these cute fruit inspired dolls from Lovely Indeed.
You can't beat a good accessory and we love this beanie with a twist by Friday Pattern Company - it's made from velvet!
Use up your fat quarters or smaller pieces of fabric and make beautiful burp cloths for friends with babies using this tutorial from The Willow Market.
Llama's are so popular right now, so hop on the trend and make some cute cuddly llamas with this tutorial by Johanna Rundel.
For older llama lovers, make a beautiful piece of embroidery hoop art for the wall with Bustle and Sew's project.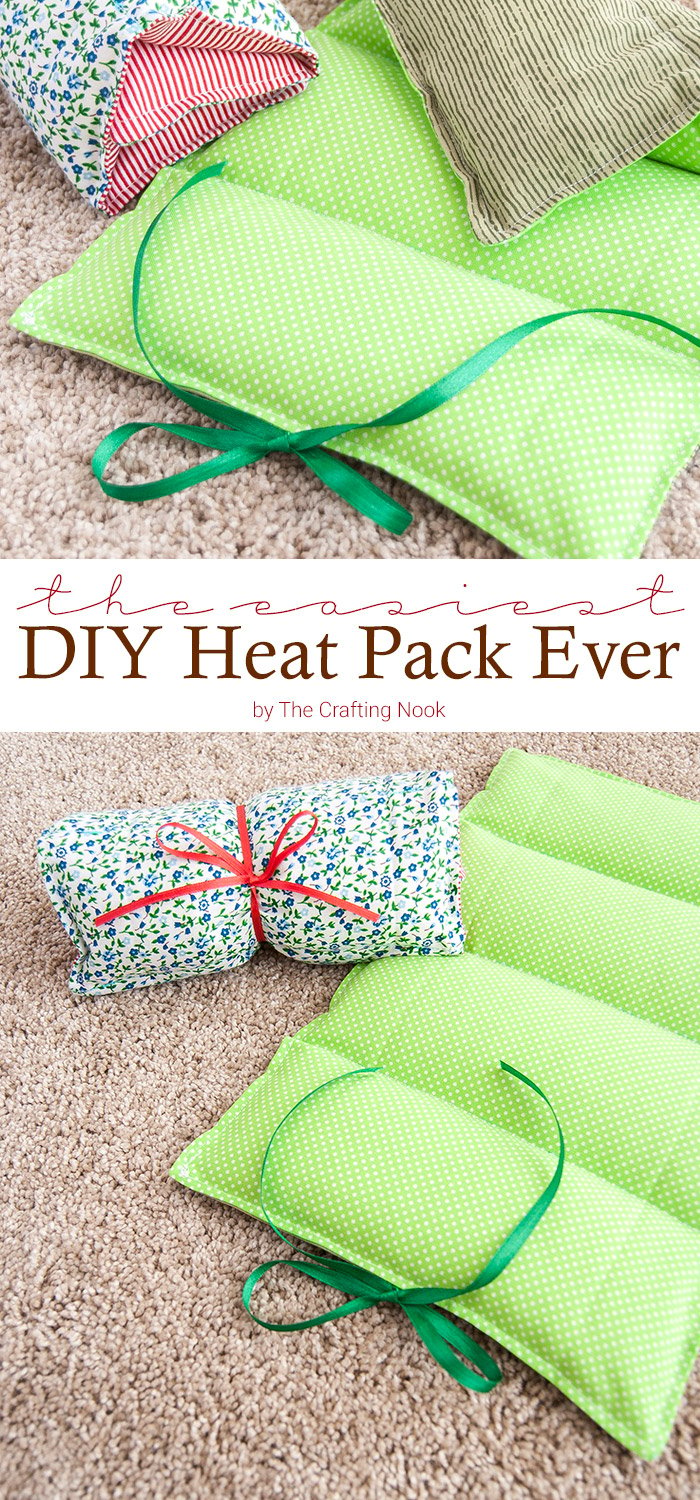 Keep those cold people in your life warm with a DIY heat pack by The Crafting Nook.
Or make it more fun for the guys with this novelty moustache version by The Crafty Gentleman.
Make something unique for the coffee lover in your life with this cute coffee bag tutorial from Minki Kim.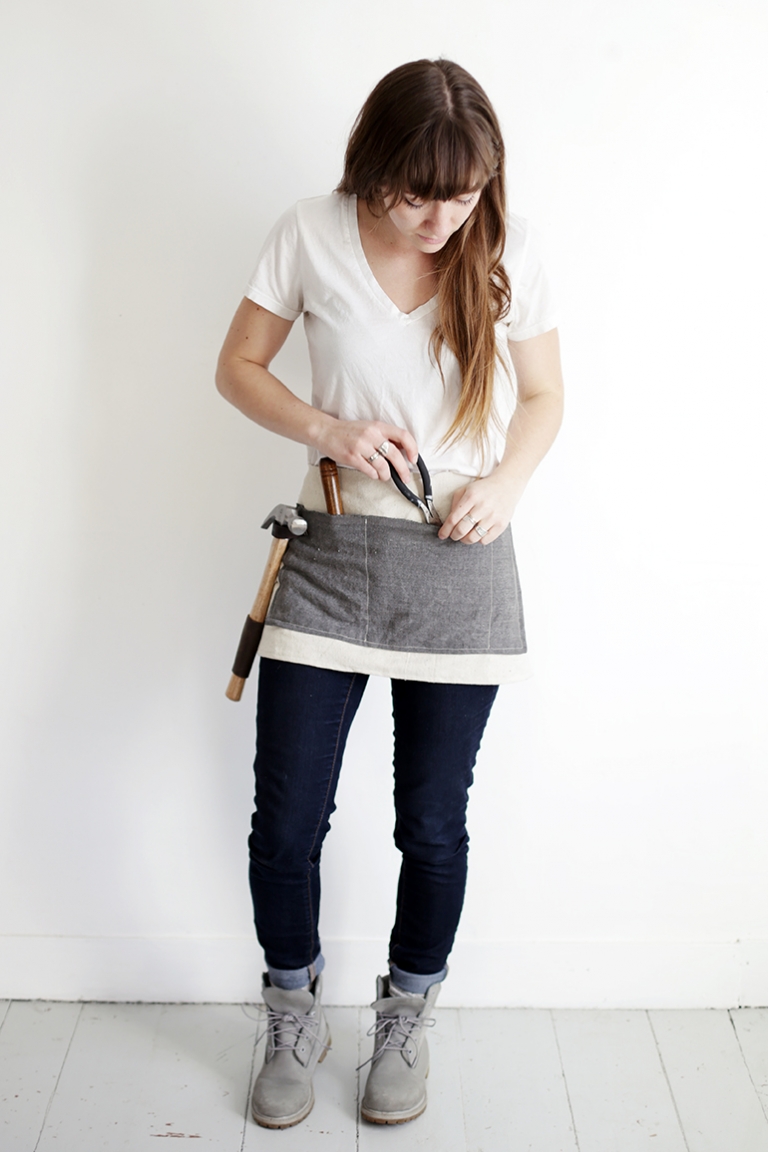 We love a practical gift, and this one's great for tool enthusiasts and artists alike - follow the tutorial by The Merry Thought.
It might be a bit unusual, but you can use your machine to make your own customised tea bags too! This is a great project for tea lovers, from Wild Wild Whisk.
For the person that has everything, give them somewhere to put their bits and pieces! These handy trays are good for everything from hairbands to spare change - just use A Spoonful of Sugar's handy tutorial.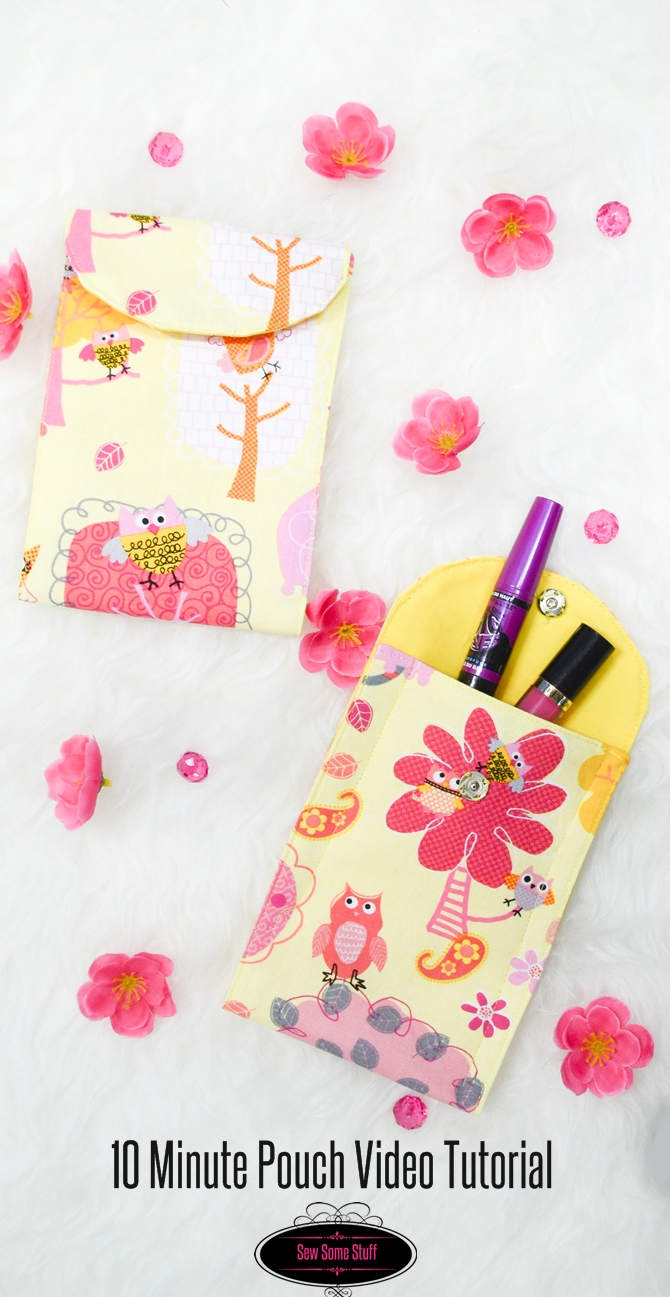 These pouches are so handy for inside your handbag, they'll keep all your essentials together like lipstick and eyeliner. Tutorial by Sew Some Stuff.
Make something unique for the music lover in your life, and quilt your own ukulele case with this tutorial from The Sewing Party.
Foodie lovers will love this tortilla warming wrap! Project by The Good Hearted Woman.