Free UK delivery on orders £45+
May Subscription Box Project Inspiration
So you've got your Sew Obsessed box for May, but what are you gonna make with it? This special sewing themed collection deserves a special project, and we've been on the hunt for the best. Don't miss not one, but FOUR free projects from Makower using this very collection too!
May Subscription Box Project Inspiration
Jazz up your machine with this absolutely stunning machine cover, designed by Lynne Goldsworth for Makower. It uses your fabrics for this month so it's a great starter project if you've just joined up and got your first box - add in your own fabrics if you need extra, or get some more of this collection to make it up as the photo shows. Best of all, this project is totally free - download the instructions and templates below!
Stitch in Time Sewing Machine Cover Project by Makower
Whip up this pretty striped design tote bag with your fabrics for a quick and satisfying project. It also makes a great bag for carrying round any portable craft projects!
Stitch in Time Striped Tote Bag Project by Makower
For those addicted to bag making and/or shopping, Makower have also produced this cute little shopping tote bag pattern! 
Shopper's Tote Bag Project by Makower
If bag making isn't really your thing, this gorgeous quilted patchwork cushion makes a great project and a very comfortable and usable item too - pop it in your sewing space or even pride of place on your sofa! It would make a lovely gift too.
Stitch in Time Cushion Project by Makower
Use up every last scrap with this selvedge project! Cut off the selvedges and appliqué them into this pretty spool design for a sweet little block that could easily be made into a cushion or quilt. Also great for small strips of fabric that you might have left over!
Spool Applique design by Helen Philipps
Or stitch up a special card for a sewing friend - another great way to stash-bust those scraps, and you can practice your free motion technique too!
Free Motion Applique Card by Anne Weaver
Make something useful from your fat quarters and have a go at this thread catcher and pin cushion tidy. It's a great little make to have beside your machine, especially as those loose threads and scraps seem to get all over the floor so easily!
Thread Catcher Tutorial by Janome Life
On the theme of practical makes, we love this little sewing tool organiser project from In Colour Order. It keeps your tools nice and tidy and looks great!
Sewing Tool Organiser by In Colour Order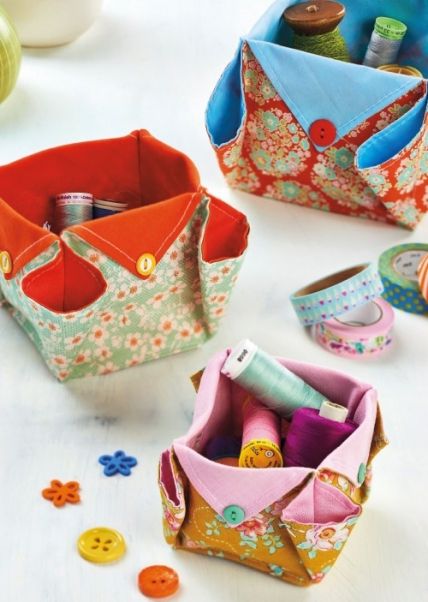 And finally, how cute are these little 'origami' baskets? Perfect for storing threads, bobbins, and little bits and pieces! For extra sewing love, pop a sewing themed button on the front...