Free UK delivery on orders £45+
Beginners Guide to Sewing
Always wanted to give sewing a go but didn't know where to start? We've compiled an easy place to give you all the information you need to get started in this creative hobby!
We'll cover lots of basics that will help you understand the elements, basic terminology, set up and equipment when it comes to sewing. It's not that scary, promise!
Do I need a Sewing Machine?
You don't need a sewing machine to sew, but most people prefer to use a machine because it's a lot quicker and tends to be more even - especially when it comes to things like dressmaking with lots and lots of seams! 
Choosing a Sewing Machine
Choosing a sewing machine is a bit like choosing a car - they all essentially work the same, but the features and the way it 'drives' will vary a bit by manufacturer. Generally, any of the big brands offer good quality machines - Janome is our favourite but many people also like Brother, Singer, Husqvarna and Juki too. 
Consider what features you may want to use and the budget you've got to spend, as well as how long you want the machine to last you in your sewing journey. If you're on a tight budget and just want to get started quicky, you can often pick up a basic Brother or Janome machine for under £100. These are great for starting out and have all the main stitches and features you'd use over time, but they aren't as swish and tend to omit those handy little extras that you may find help prevent a lot of frustration. 
If you think you'll use your machine a lot and can afford to, we'd recommend getting the best machine you can afford that has all the features you want - this doesn't necessarily mean the most expensive! Usually the more expensive they are, the more extras they have, such as more decorative stitches, features like automatic bobbin winder, start/stop button, needle threader etc. They also include digital features as you progress up the price band, which may or may not be a good thing. They tend to be more slick and easier to use but the computer element is more likely the break than the more mechanical basic models without a digital element.
Think about what you'd find most useful - eg, a needle threader if your vision is less clear or you sew in the evenings as you may get frustrated trying to see to thread the needle constantly! Generally, I'd recommend getting something with a speed control, needle threader and automatic bobbin winder if you can as these tend to be really helpful features that I always regretted not having on hand with my first machine, and often the next machine up has these for not much more money.
Don't forget to check out people's reviews online, and if you can, go to a machine shop and see if you can try one out! Lots of them will let you have a go before you commit to buying. 
Machine Basics
Once you've got your machine, you'll need to learn what the different parts are and how to set it up. You can find a basic anatomy of a machine (sometimes where things are may vary slightly by brand/model) in your manual that comes with the machine. I'd recommend taking the time to read your manual as often they do actually have a lot of info on how to use all features of your machine to the fullest, including the different feet!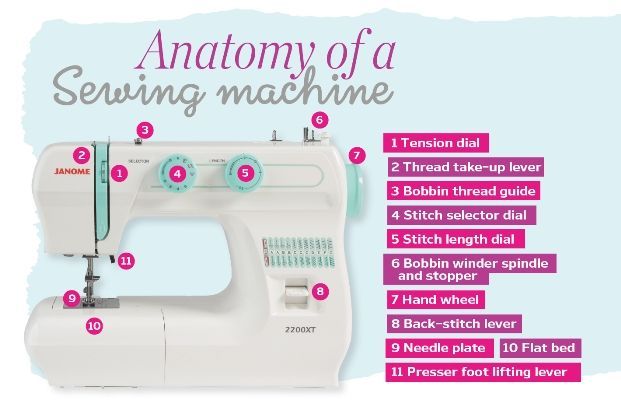 (Anatamony of sewing machine by Sew Magazine)
Ultimately, you'll need to learn how to wind a bobbin, thread your machine, adjust the tension and start/stop stitching as a basic requirement. Your manual will show you how to thread your specific machine, and often you'll find numbers and/or arrows printed on the machine too to show you where to place the thread. Make sure you put the spool cap on over the end of your thread, otherwise it will pop off as you sew, and follow the numbers. When you thread the thread through the metal 'eye', ensure the needle is in the highest position by using the turn wheel on the side of the machine. 
You'll also need to wind some thread onto your bobbin, Make sure you've got bobbins suitable for your machine (normally they come with a few when you get it). There's a small metal spoke on the top of your machine that holds the bobbin for winding. You'll need to thread the machine differently to wind your bobbin - normally this goes round something on the top of the machine like a metal screw to help give tension, and then thread the end of the thread through from the middle of the bobbin to the outside, through the hole. Pull a couple of inches of thread through so you've got enough to hold on to, then pop the bobbin onto the metal spoke until you hear it click into place. You may need to set your machine to bobbin winding mode if it's digital, or slide the metal spoke to the side to engage this feature. Next, disengage the needle by pulling the turn wheel out away from the machine - don't worry, it's designed to do this! - which will stop the needle going up and down when you wind the bobbin. Hold the end of the thread firmly and then push the foot pedal or start/stop button to start your bobbin winding. Don't let go until it's wound a few rounds of thread onto the bobbin or it will unthread itself! Keep going until it looks full or stops on it's own (if you have this feature). 
Once you've filled your bobbin, you need to thread this up into your machine too. There are two types of bobbins on a machine - front loading or drop-in style. The drop in is a little less fiddly, but both essentially work the same! 
Here's how to thread a drop-in bobbin:
And here's how to thread a front loading bobbin:
Make sure you've drawn the bobbin thread up through the machine before you start stitching. To do this, hold the top thread taught and then raise and lower the needle. This should pull a loop of bobbin thread through from the bottom of the machine, you just need to pull it out and ensure you've got a good tail of thread (about 8cm is good) that's sitting out towards the back of the machine.
Now you're ready to start stitching! 
Raise the presser foot - there should be a lever somewhere behind and to the right of the needle - then place your fabric underneath, lining up the edge of the fabric with the seam allowance you need on the metal plate underneath. When you've got it in the right place, lower the lever to lower the presser foot. 
Put your foot down, and you're away!
Essential Equipment
Other than a sewing machine, there are a few other essential pieces of equipment we'd recommend investing in as you will need to use them for most projects.
If you want all your basics in one easy-to-purchase place, you can get yourself a beginner's box, which contains all the essential basics you'll need. If you'd rather pick your own, read on to see what we'd recommend...
Firstly, a good set of pins! It's really personal preference as to what type of pins you pick - there's everything from novelty button head ones to simple dressmaking pins. Personally, we prefer to use heatproof glass head pins as we don't have to worry about the pin heads melting if they get ironed over, and the heads make them easier to grip and get in and out of your fabric.
You'll obviously need some needles too, most likely both hand sewing and sewing machine needles, although your machine may come with a set of universal needles when you buy it. Hand sewing needles are usually needed to finish off delicate things like buttons, finely stitched hems and tacking stitches. A basic pack of household needles will do you for most things.
Types of machine needles
There are lots of different types of machine (and hand sewing) needles, and each are designed for sewing different types of fabrics. Make sure you're using the correct type of needle for the fabric you're sewing.
Universal - a great all round needles for most light to medium weight fabrics like cottons, linens, polyester types. Most have a slight ball point so can also be used for low stretch fabrics like stretch cord, stretch sateen, stretch denim.
Ball point/Stretch - for stretch and knit fabrics like jersey, ponte roma, sweatshirting, interlock, double knit etc, lycra types. For very stretchy fabrics, use a stretch needle.
Metalfil - for using with machine embroidery threads and metallic threads, they help stop the fibres shedding and reduce breakages.
Embroidery - for using with machine embroidery threads and embroidery machines, they help stop the threads from splitting or breaking by ensuring a smooth feed
Sharps - ideal for fabrics like silk, microfibre etc; their sharp point is ideal for tightly woven fibres.
Top Stitch - these have an extra large eye to accommodate thicker top stitching threads, and are ideal for stitching medium to heavy weight fabrics like denim and canvas
Quilting - these have a longer, sharper point that's great for piercing multiple layers of cotton and batting/wadding.
Leather - for leather and faux leather; they have a triangular shaped point to help penetrate the surface of tougher fabrics
Jeans - for heavy, tightly woven fabrics like denim, canvas; they have an extra sharp point for penetrating dense weaves.
Overlock - these are used for overlocker machines, but you can also use stretch needles if you can't get your hands on these.
Twin needles - these come in different fabric types again like universal or stretch, but they all contain two needles attached to one shaft; they create two lines of stitching and a zigzagging bobbin thread on the wrong side.
All needles come in different sizes/weights, starting from lower numbers like 70 right up to 100. The lower the number, the finer the fabric; the higher the number, the heavier the fabric. We'd always recommend using an 80 on something like quilting weight cotton and linens, 70 on lighter fabrics like poplin or crepe, and 90 or above on heavier fabrics like canvas and denim.
A seam ripper is another sewing box essential, because let's face it - you're going to make mistakes along the way (we do now, even after years of stitching!) and will need to unpick your stitches quickly and easily. These have a fine, sharp blade on them to quickly slide under your stitching and rip it. This basic soft grip version is a great long-lasting option, though if you want to invest in a super duper one that also removes threads, go for a Seam Fix!
 A tape measure is also an essential, so you can measure yourself and your pattern pieces if you need to! Make sure you get a flexible one.
You'll need a marker of some description to help you mark out any pattern markings like notes and tailor tacks. Chalk is the classic marker of choice as it washes out or wipes away on most fabrics, and also comes in pencil versions for easier use. however you can also get more modern versions such as vanishing markers. Bear in mind how long you may want your marks to last - the vanishing ones can fade within hours!
One of the other essentials is a couple of good pairs of scissors. You'll want a larger pair with longer blades for cutting out your fabric, and a pair of smaller, finer scissors with a sharper point like embroidery scissors. These are great for finer work and snipping threads.
When buying scissors, you will have to weigh up quality vs cost - there are more expensive brands like Fiskars which can be up to twice the price of cheaper ones, however they stay sharp for years as long as you look after them. Cheaper pairs often blunt more easily and may need replacing in 6 months to a year. Only use your scissors on fabric to help give them the longest life! Have a separate pair designated to cutting paper/patterns.
We'd recommend this pair of Fiskars for a great all-round fabric cutting pair that will stay sharp for years:
For a good pair of embroidery scissors, look for something with a fine, sharp point for accurate cutting, like these:
A couple of other useful - but not essential - items to have that we'd recommend would be a magnetic seam guide and a sewing gauge. These will both help you achieve straighter, neater hems and seams, something a lot of beginners struggle with at first! The seam guide will attach to the plate on your machine and will help you guide the fabric to the right seam allowance easier while sewing; the gauge will help you measure your hems more accurately when you turn them up, and is especially useful for long hems like skirts and dresses. It also has a handy point turning for creating crisp corners!
Choosing a sewing pattern
When choosing your first project, don't be over ambitious - this is where lots of people fall at the first hurdle, trying to do something really complicated, find they get stuck/can't do it/don't understand it and give up. Work your way up to the harder stuff!
Look for a pattern with simple construction, think simple shapes and smooth lines - the less fitted it is the easier, though we'd recommend steering clear of stretch fabric at first.

Bear in mind that independent patterns often have more easy-to-understand instructions than your big pattern brands like Simplicity - Tilly and the Buttons in particular is great for beginners with jargon-free instructions and breakdowns of key techniques.
Here's a few of our most-loved beginner-friendly patterns:
Choosing Fabrics
When you start sewing, we'd recommend using stable, woven fabrics like cottons or linens that won't move around or stretch too much as you work with them. 
For lighter garments you can use cotton poplin, cotton lawn, chambray, polyester peachskin or polyester crepe; for medium to heavy weight items use quilting weight cotton, cotton canvas, corduroy, linen and linen blends.
If you're not sure about the fit of your garment, you can make what we call a toile - a practice garment - in a cheaper fabric first before you splash out on something more expensive if you're worried you'll get it wrong.
Cheaper is not always better as you may find that poorer quality fabrics are harder to sew with; they also tend to wash and wear less well, so weigh up how much you want to spend versus how long you want it to last and how easy you want your sewing time.
 Types of Fabrics
One of the biggest learning curves when sewing is learning what different types and weights of fabric are!
Fabric comes in different weights or thicknesses, which are referred to as light, medium, heavy etc, and can also be referred to more accurately by their "gsm" (grams per square metre). The thicker the fabric, the heavier the weight and the higher the gsm number. Fabrics like cotton poplin and lawn are considered light weight and usually have a gsm of around 100; heavy fabrics like denim are more likely to have a gsm over 250. The gsm can also be an indicator of quality if you are buying online.
 Here are some of the most common types of fabric:
Cotton Poplin - a light weight cotton that feels smooth to the touch and has a very small amount of drape. Good for lots of projects including summer dresses and skirts, lightweight trousers, tops, quilts and accessories like make up bags. It also makes a great breathable lining for clothing and bags.
Cotton Lawn - a light weight cotton, but with a slightly rougher feel to the surface and a more open weave. They tend to be even lighter than poplins, but are very breathable and comfortable and can be used as above.
Quilting Cotton - this is a medium weight cotton with a reasonable amount of structure so it's great for patchwork, quilting, bags and accessories, as well as semi-structured clothes that don't need drape. They're extremely easy to sew with due to their weight and lack of movement!
Viscose/Rayon - a light weight drapey fabric that's ideal for garments that want a lovely drape and hang to them like skirts, dresses, trousers and tops. It has a smooth, slightly silky texture and is made from a natural cellulose fibre. It can be a bit more slippery to work with for a beginner, and also tends to fray a bit more on the cut edges. Due to it's natural fibres, it's a popular choice for summer clothes as it's very breathable and cool.
Satin - a silky fabric with a classic sheen/shine to the surface, it can come in different weights from stiffer and heavier duchess satin, to lighter weight and more drapey silky or micro satin. Great for occasion and evening wear.
Sateen - usually a cotton type fabric with a matte sheen on the surface, that's often got a touch of stretch and is best used on smart fitted garments like structured dresses, work wear, trousers and skirts. It doesn't usually have much give so it's great for creating structured, tailored shapes.
Silk - a high quality, breathable fibre that can be any weight. Usually it's made into other types of fabric like silk chiffon, silk georgette etc. It can be harder to work with usually because it makes your fabric finer and more slippery. It's quite expensive so it's usually only used on occasionwear. 
Coating - a thicker, woolly type fabric with a soft touch - like you'd normally see your shop-bought coats made from. It's ideal for... coats! It doesn't usually have any stretch and is very heavy weight. 
Wool - often in thicker weights though you can get lighter wool fabrics for making skirts etc. Most wools are ideal for fitted garments like jackets as when pressed they hold structure well and are warm and dry.
Lace - a highly decorative woven fabrics with a wide open weave. It comes in different weights and can be stretch or non-stretch. You will normally need to use a lining underneath it for most garments.
Flannel/Brushed Cotton - this is cotton with a soft texture to the surface. It's often used for pyjamas and lounge wear as it's so comfy and cosy, though you can also use it on quilts, especially for baby and children's ones.
Polycotton - a cotton and polyester mix, it's often the cheapest type of fabric you can buy and is great for low cost fabric and practicing. It's not recommended so much for clothing as it can be a bit sweaty due to the polyester, especially for those prone to sweating or with sensitive skin!
Chiffon - a very light weight, see through fabric that's often used for the outer layer of skirts. It has a lovely flow to it and can add volume. It's also notoriously a pain in the bum to sew with as it's so light and can move a lot, so it needs plenty of pinning!
Georgette - a light to medium weight, translucent fabric; think of a heavier version of chiffon that's less see-through. Again, it's often used on occasion dresses as an overskirt with lining underneath. It's got a lovely drape to it too.
Crepe - crepe is georgette's heavier cousin. It still has the lovely drape but tends not to need lining if it's good quality and comes in many lovely printed designs.
Peachskin - this is a woven polyester fabric that has a slightly fuzzy soft texture to its surface, like a peach! It has a bit of drape so it's a great alternative to viscose for a beginner looking for a fabric with drape that's easier to work with.
Corduroy - a medium to heavier weight fabric with a velvety texture and lined surface. It can have a small amount of stretch for comfort, or no stretch. Commonly used for hardwearing garments like trousers, skirts, dungarees. 
Denim - a dense woven fabric that's hardwearing for items like jeans, skirts and dresses as well as bags and accessories. It can be stretch or non-stretch and come in different weights depending on how heavy you want it - heavier types tend to be used for jackets and bags.
Chambray - this is a light weight denim type made from cotton or a mix of cotton and other fibres like viscose or polyester, and has a very small amount of drape. It's great for lighter and airier items like shirts, shirt dresses, tops and skirts. 
Linen - a medium to heavy weight woven fabric, pure linen has a lovely weight and hang to it for structured dresses and trousers. Linen mixed with fibres like viscose or cotton make it lighter; viscose linens have more of a drape and a slightly lighter weight which makes them fantastic for summer garments like dresses, trousers, skirts and shorts. Linen is a natural breathable fibre, so great for those with sensitive skin and for hot weather, but it does tend to crease easily - go for a linen blend if you want to minimise creasing.
Velvet - a soft, short pile fuzzy-textured fabric that's usually used for evening wear like dresses and skirts. It can be stretch or non-stretch, and either have a matte, glass-like or "crushed" finish. If you brush it one way, it will look different to when you brush it the other way so be mindful of this when cutting out!
Jersey - a stretch fabric in light to medium weights that's a great all-rounder for things like tops, t-shirts, leggings and dresses. Cotton jerseys are easier to work with and a bit thicker; viscose jerseys have more drape and are thinner but can be more slippery to work with. 
Ponte Roma - a thicker stretch fabric, with a slightly satinised texture. It's low-stretch so easier to work with and makes great skirts, dresses and stretch garments that want a bit more structure and bit of a smarter look.
Interlock/double knit - this is usually a thicker, medium weight fabric that's got a matte texture and is a bit thicker than jersey. Great for dresses, hoodies, tops etc.
Sweatshirting - a thick, low-stretch fabric that's warm and cosy, ideal for sweaters, hoodies and jogging bottoms. It normally has a smoother side with a plain or printed design, and the back is fluffier and cosier with a brushed finish.
Ribbed/sweater knit - this is a stretch fabric that has a lined, knitted texture to it and is often warm and thick. It's ideal for winter wear like jumpers and dresses.
Ribbing/cuffing - this is usually used in conjunction with jersey or sweatshirting, and is a thicker, heavier ribbed fabric designed to withstand the extra wear and tear your garments may get on the cuffs and waistband. It's usually sold on a much smaller width roll but half a metre will go a long way - you usually only use it on cuffs, waistbands and sometimes neckbands.
Suiting - this can come in stretch or non-stretch varieties and is usually made from fibres like cotton, polyester, nylon etc. It's good for smart items like structured skirts, trousers and jackets.
Plush/fur - a low-pile fur-type fabric that is super soft to the touch, like animal fur. It's a popular choice for children's blankets, teddies, toys and dressing gowns.
Leather - either genuine made from animal hide, or more common faux leather made from man-made fibres, it has a heavy weight while often still being quite supple and soft to the touch. A good quality faux leather can be used for bags and accessories, as well as structured garments like skirts or dresses.
Suede - real or faux, it has a peached sort of texture to it and is often semi-structured. Use for bags, accessories and upholstery as well as garments like skirts or dresses.
Canvas - a heavy weight, densely woven cotton or polyester type fabric. It's hardwearing and most commonly used for bag making, home accessories and upholstery, although you can use it for more durable garments like skirts.
PVC/Oilcloth - a laminated fabric that usually has a cotton base that has been laquered over with a waterproof polyethene type finish. They are wipe clean and waterproof usually, but can stick to your machine as you sew - use a teflon foot or tissue paper to help prevent this. Great for tablecloths, bags and cosmetic bags - anything you want to wipe clean!
Tweed - a heavy woven fabric with a traditional woven pattern, that's great for skirts, jackets and also bags. It can fray quite a lot so you'll want to overlock or bind your seams, and you will need a lining if you are making a garment.
Jacquard - a fabric with the design woven into the fabric as opposed to printed on the surface. Can come in stretch or non-stretch varieties and is usually medium to heavy weight.