Free UK delivery on orders £45+
Our Top 5 Magazines for Stitchers to Subscribe To
Looking for a new magazine to have a flick through every month for ideas and inspiration? Here's our pick of the top magazines to subscribe to for those that love sewing - and they're not all solely magazines for sewing!
Our Top 5 Magazines for Stitchers to Subscribe To
Mollie Makes 
One of our favourites, Mollie Makes is fab for new sewers and those that like all kinds of stitching as well as sewing. It's more craft-focused than sewing-focused which is sort of nice, as you get to try out different things and also appeals to people that enjoy a bit of crochet or knitting alongside their sewing! Best of all, their free gifts are usually fun little projects that you actually want to use!
Craft Seller 
Craft seller is another great magazine, especially for those that sew for business as well as pleasure. While this is also a mixed-media magazine, they always have super trendy and super cute projects in there. The one amazing element of this magazine is the handy business tips and finance tips for each project - it will tell you what you can make a project for and roughly what you can expect to sell it at. Like Mollie Makes, the mix of crafts can be really helpful and inspire you to make something along the same lines. 
Love Sewing
A classic sewing magazine, love sewing is great for beginners looking for some inspiration thats all about sewing. Their articles are really handy for people who are just getting into sewing, covering things like how to pick the machine thats right for you and sewing on a budget. They also come with fun free gifts like dressmaking patterns!
Sew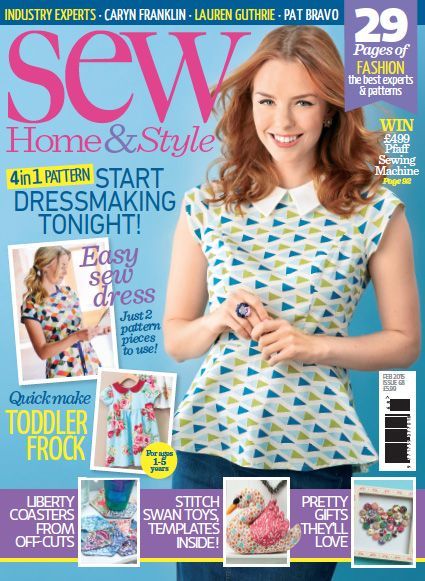 Sew is another classic, offering a range of projects specifically for sewing. Most of the time they tend to be a bit more home/item based sewing than garment sewing, but the magazine is also great for info about new products and techniques. They also cover a range of techniques, which is good for beginner to intermediate sewers. 
Burda Style Magazine
Burda Style is one of my favourites because it's more fashion based than other sewing magazines. Whilst a lot of them feature a few clothing patterns, this is much more tailored to the dressmaking market, which is my kind of sewing! It might be a little unsuitable for a beginner though (unless you're feeling ambitious!), as it can include more complex techniques and sewing. The big bonus is that they feature soooo many patterns, it's amazing!
For more ideas and inspiration, why not take a look at our range of Books - including books on sewing, knitting, crochet, creative stitching, toy making and quilting!